Advanced Soldier-Centered Integrated System
… tailored to meet customer requirements!
The Advanced Soldier-Centered Integrated System improves mobility and decreases the physical burden by means of a modular but functionally optimized approach. It features Advanced load carriage and protection, using an optimal ergonomic and biomechanical design, and an advanced mechanism for ideal weight distribution, stabilization and tight fit. Reduced system weight and volume through merging functionality modules optimally placed over the body (allowing the soldier to carry the minimum equipment required for the mission); low-power consumption components (ARM processors, Linux OS); and optimal number, width and length of cables on the system level.
Goal and Core Values
The goal of the Smart Vest solution is to improve the effectiveness and protection of the dismounted soldier.
Its main areas of focus are:
Improved situational awareness and closing of the C2 chain
Decrease of the physical burden by means of a modular approach
Future-proof architecture to main a scutting adge system
SOLDIER ADVANCED SYSTEM
Proven Expirience of Dismounted Soldier Sytems – Command Control, Communications and Situational Awareness – ALL IN ONE !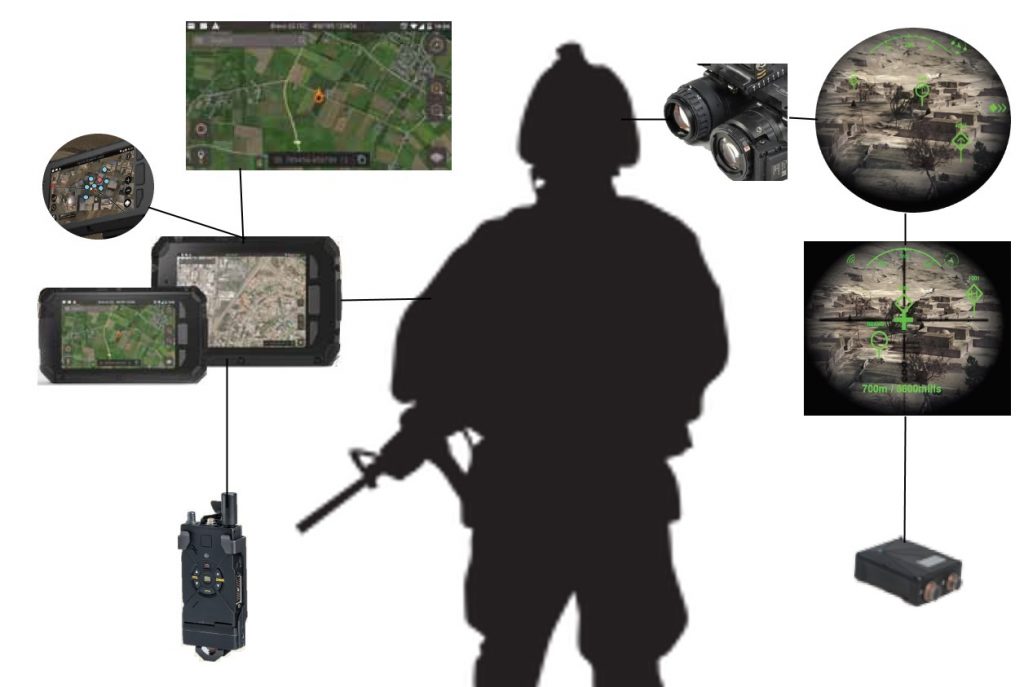 SOLDIER C4I & Energy System
The Soldier C4I & Energy System consists of the following three main configurations:
SOLDIER-LIGHT (SL)
Provides essential capabilities for the modern soldier: Combat voice for up to 3km and positional update (position). The SL is comprised of the following elements: Soldier-Radio, in-ear headset and vest-power-adapter. Centric energy system provides connectivity with a variety of external power sources – which are distributed to the system consumer, and provide Ethernet interface to the vehicle.
SOLDIER-BASIC (SB)
Provides the capabilities of "Blue Force Tracking" (position data), enemy spots (what and where), mission plan reception (plan) and navigation capabilities using military anti- spoofing GPS and support of various interfaces. The SB configuration consists of the following elements added to the SL configuration: miniature military GPS and C2Eye (advanced handheld display) running the soldier C2 application.
SOLDIER-ADVANCED (SA)
Provides a powerful planning tool. The SA configuration includes the addition of the CCD (Command Contorl Display) to the SB-Configuration.
Improved Situational Awareness
The Soldier-Center Integrated Systems provide Improved Situational Awareness and closing of the C2 chain, by means of cutting edge C4I components and integration approach it features:
State-of-the-art communications and radio solution – for the dismounted soldier and the mounted vehicle – supporting the platoon's voice communications, combat data and video. This solution successfully decreases the decisionmaking cycles within the battlegroup environment.
Seamless interoperability services with existing legacy systems and other coalition forces – based on standard interfaces and a generic radio adapter.
High-end low-weight day and night cameras and target acquisition devices, designators and sights for riflemen and specialists – integrated with the C2 solution ELOP/ITL.
Future-Proof Architecture
Future-proof architecture is employed to maintain an up-to-date, hightech system. The solution is based on an open architecture baseline and uses standard interfaces. These features enable the addition of future products, as well as software and hardware functionalities, to the existing design. They also enable the seamless replacement of solution components (e.g., smartphones, radios, etc.) and upgrades to evolving technology.
Extention & Vehicle Integration
The Vehicle Integration Unit components provide the mounted soldier with an advanced VoIP-based communications solution. It integrates with existing legacy and analog equipment to form a cutting-edge, homogenous communications solution. The solution enables the highest level of flexibility and modularity, yet maintains an extremely low volume and highly optimized power consumption.
Wireless Sensor & Networks
Intelligent, scalable networks of powerful, miniaturized, unattended ground sensors:
Interested – Questions? -> Contact us – and ask for further Details or Presentation/practical DEMO!
IMPORTANT NOTICE
Please note that we only deliver to dedicated authorities, security agencies and services, authorized organizations and companies.
For further information please contact us directly, either by phone on +43 1 4819001 or with a short contact mail – We will call you back!